Myanmar's military has repeated its promise to hold new elections and relinquish power as anti-coup protests continue across the country.
Army spokesman Brig Gen Zaw Min Tun once again claimed that the military took control after alleged voter fraud, but did not provide any evidence.
He also said a second criminal charge had been filed against the detained opposition leader Aung San Suu Kyi.
Mass protests have been taking place since the military coup on 1 February.
The military has heightened its presence on the streets and deployed armoured vehicles in several cities in recent days in further signs of a potential crackdown on opposition demonstrations.
'Down with the military - release our leaders!'
The shooting of a young protester
In the military's first news conference since toppling the government, spokesman Zaw Min Tun said the armed forces would not remain in power for long, and promised to "hand power back to the winning party" following a planned election.
He did not provide a date for the vote.
What else did the military say?
Addressing reporters in the capital Nay Pyi Taw on Tuesday, Zaw Min Tun said an additional charge had been filed against Ms Suu Kyi, saying only that it related to an alleged violation of the country's Natural Disaster Law.
Ms Suu Kyi was earlier charged with possessing illegally imported walkie-talkies. The BBC's South East Asia correspondent Jonathan Head says this charge lacks credibility.
Zaw Min Tun said Ms Suu Kyi had been confined to her home for her own safety, and that she was comfortable and healthy.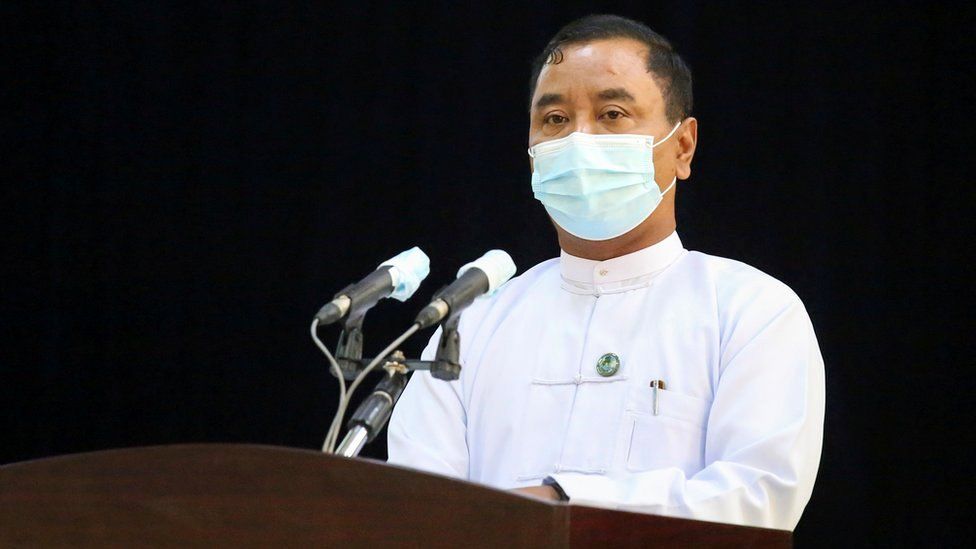 IMAGE COPYRIGHTREUTERS
image captionBrig Gen Zaw Min Tun said Ms Suu Kyi had been confined for her own safety
He used the news conference to accuse anti-coup protesters of violence and intimidation against the security forces.
A police officer had been wounded by "lawless actions" and had later died from his injuries, he said.
Protesters have clashed with security officers and there have been recent reports of police using tear gas and rubber bullets to disperse crowds.
One protester is in critical condition after being shot in the head.
Mya Thwe Thwe Khaing, 19, was hurt while taking part in a protest - though it is not clear exactly what she was hit by. Rights groups say her wound is consistent with one from live ammunition.
Zaw Min Tun said some measures taken to control crowds of protesters were in response to bricks being thrown at police.
The UN has warned Myanmar's military - which on Monday announced penalties of up to 20 years in prison for those opposing the coup leaders - that there would be "severe consequences" for any brutal suppression of the ongoing anti-coup protests there.
What else is happening in Myanmar?
Protesters were out again early on Tuesday, with crowds gathering in cities like Yangon and Mandalay. BBC Burmese reports monks were seen heading out onto the streets of Yangon in a mostly peaceful scene.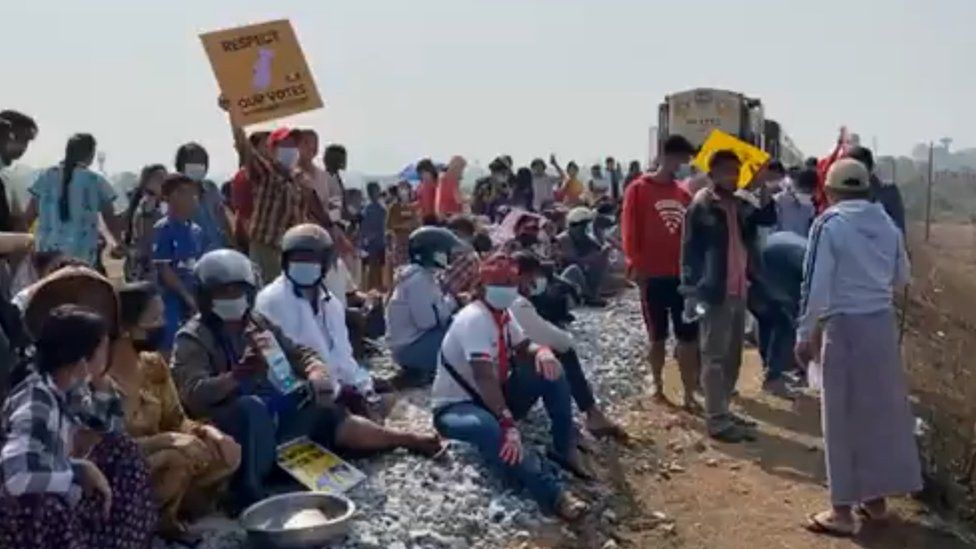 IMAGE COPYRIGHTREUTERS
image captionProtesters opposed to the military coup block the railway between Yangon and the southern city of Mawlamyine
Outside the city, protesters were pictured lying down on the tracks in an attempt to disrupt services. According to Reuters, train services between Yangon and the southern city of Mawlamyine were blocked as a result.
The turnout at recent protests appeared to have grown smaller than at the ones seen last week, which saw tens of thousands of people in attendance, as the military has stepped up its presence.
media captionMyanmar coup: How did we get here?
Meanwhile, access to the internet in Myanmar was restored on Tuesday morning after it had been cut off for a second night.
The junta has been regularly blocking the web to try to stifle dissent since the coup began.
On Saturday, the military gave itself the power to make arrests, carry out searches and hold people for more than 24 hours without a court ruling, while telling journalists not to describe the military's takeover as a coup.
Myanmar: What will the military do now?
With the reports of violent clashes, residents in several cities are reported to have formed night-watch groups to deter mobs rumoured to have been dispatched by the military to cause unrest.

Myanmar - the basics
Myanmar, also known as Burma, was long considered a pariah state while under the rule of an oppressive military junta from 1962 to 2011
A gradual liberalisation began in 2010, leading to free elections in 2015 and the installation of a government led by veteran opposition leader Aung San Suu Kyi the following year
In 2017, a deadly crackdown by Myanmar's army on Rohingya Muslims sent more than half a million fleeing across the border into Bangladesh, in what the UN later called a "textbook example of ethnic cleansing"
Aung San Suu Kyi and her government were overthrown in an army coup on 1 February following a landslide NLD win in November's elections
https://magicseaweed.com/User/Profile/1575359/
https://magicseaweed.com/User/Profile/1575361/
https://magicseaweed.com/User/Profile/1575363/
https://magicseaweed.com/User/Profile/1575364/
https://magicseaweed.com/User/Profile/1575371/
https://magicseaweed.com/User/Profile/1579280/
https://magicseaweed.com/User/Profile/1579317/
https://magicseaweed.com/User/Profile/1579338/